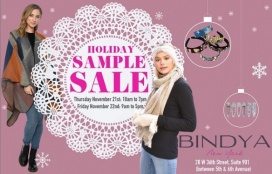 New York
November 22nd 2019
Bindya NY will be hosting a featuring women's apparel and accessories at discounted prices.
Price ranges from $5 to $75
Cash and credit cards are accepted.
specializes in women's clothing. Its collection is most known for its chic yet exotic designs particularly when it comes to wraps and scarves, kimonos, and tunics.
Read more